Opening Hours
MAIN LIBRARY:
Tuesday & Wednesday: 10- 6pm
Thursday & Friday: 10 - 7pm
Saturday & Sunday: 12 - 4pm
DEDICATED CHILDREN'S AREA:
Tuesday & Friday: 10 - 5pm
Saturday: 12 - 4pm
Children can borrow books and DVDs during Main Library Hours.
RHYME TIME - suggested £3 per child:
Tuesdays at 10.30 with Cara


Fridays at 10.30 with Sasha


Monday & Bank Holidays : LIBRARY CLOSED
Our Patrons & Supporters
Supporters, Donors and Patrons
We are very grateful to the those many people who have generously supported their local library.
We have too many wonderful supporters to list all of them. In addition to those shown below, we are tremendously grateful to the many individuals and local businesses who give their time and money whom we do not identify here.
KCL would like to thank the following local schools for their generosity and patronage: Christ Church Primary School, Devonshire House Prep School, Fitzjohns Primary School, Hampstead Hill School, Maria Montessori School, New End School, and University College School (Junior School)
Last, but not least, are all the wonderful speakers and performers who have given so much pleasure to our community and while doing so helped us raise funds to contribute to the running costs of the Library. All gave their time generously and we really appreciate their support.
Major Supporters
---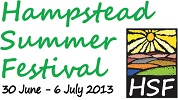 HSF made the Library joint beneficiary of their 2013, 2014 and Summer Festivals together with Age UK Camden and from Summer 2016, the team was joined by the Hampstead School of Art. It was a pleasure to work with our partners to make the Festivals such a sucess.

In 2015 The Festival raised £30,000 for its 2 charities and KCL was overwhelmed to be handed a cheque for £15,000! This represented our largest single donation.... so far.
In 2016, The Festival performed even better raising £39,000 allowing each of the 3 charities to receive £13,000.
In 2017, The Festival again supported 3 charities and each received £7,000. The relatively lower figure resulting from a lack of the large sponsorship received in earlier years.

---
Community Infrastrucure Levy (CIL) 2016

KCL applied for a grant under the government's CIL programme which replaces the Section 106 levy and is administered by Camden Council. CIL arises out of developments in each ward of each council and 25% can be directed to local projects as supported by the relevant Councilors. KCL is in Hampstead Town ward which had one major development releasing significant funds for the ward.

With the steadfast support of our 3 councillors, Camden Council Officers and a community that voted to support our proposals, we were top of the list alongside our friends at Burgh House.

We were awarded our full request of £12,850 which we have been using to

Improve the Children's Library by replacing worn our books and adding new titles, replacement furniture and trolleys and even new toys to replace our worn out ones.

Overhaul our neglected Large Print books section by buying some much newer books - which are normally too expensive to consider;

Add new Audio CDs and spoken books to modernise the section. These are also beconming expensive and there is considerable demand

Replace worn out furniture and fittings - so far all the chairs are new and tables will follow; we have a custom built librarian's cupboard containing our DVDs in a secure drawer.

Replace the displays of DVDs and Sale books with more suitable mobile stands

Put in a dishwasher in the kitchen to help with washing up the children's beakers after each Rhyme time and also glasses and mugs at higher temperatures than our hands allow!


Bought lighing for events - still under trial

Instal a hearing aid loop to the Nightingale Room to allow those with aids to enjoy the talks even for the lower volume speakers!

Add a replacement portable PA system that works.

This all took longer than expected and one of two items have been returned as unsuitable and we are looking at replacements.
Overall, it has allowed us to make some serious upgardes, not always visible to the casual visitor but improving faciliites for the future.
---
University of the 3rd Age in London - U3A in London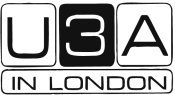 We are delighted to announce that U3A in London, based on the Hampstead Town Hall, have generously awarded grants to a number of local charities and have kindly chosen to include their local library KCL.
We shall use our grant to:

contribute towards the costs of an apprentice in 2017

allow free use in 2017 of DVD ( currently £1.50) free for the intital one week period

Support most of our literary events in the library to pay for the room hire charge and help us reduce the admission price.

Courses at U3A in London are very popular and extremely varied. As with KCL, U3A and the courses are entirely run by volunteers. We have put out brochures on joining U3A together with lists of their events and sessions. The best place to see it all is on their website :http://www.u3alondon.org.uk/

or call on 020 7692 5440 . They can be found at Old Town Hall, 213, Haverstock Hill, London NW3 4QP
---

Our local charity, The Hampstead Wells and Campden Trust, has given us grants in 2013 and 2014 towards the cost of our first intern - Jessica - and our first Apprentice - Kitty.
We used this grant to help improve continuity in the library and improve the service levels for our visitors while giving training to a young person.

---
Honourary Patrons:
· David Baddiel
· Lord Bragg
· Simon Callow
· Dame Margaret Drabble
· Alan Hollinghurst
· Anthony Horowitz
· Jeremy Karpel
· Sir Andrew Motion
· Deborah Moggach
· Michael Palin
· Sue Perkins
· Dame Janet Suzman