Opening Hours
The Library building is currently closed and service is suspended.

Fines will be waived from 16th March 2020.

Books can be dropped back in the metal box by the gate, ideally in a bag.

We look forward to being back and open to all!

Previous hours were:

MAIN LIBRARY:
Tuesday / Wedneday 10- 6pm
Thursday / Friday 10 -7pm
Saturday & Sunday: 12 - 4pm
DEDICATED CHILDREN'S AREA:
Tuesday & Friday: 10 - 5 pm
Saturday: 12 - 4pm
Children can borrow books and DVDs during Main Library Hours.
RHYME TIME - suggested £3 per child:
Tuesdays at 10.30 with Cara


Fridays at 10.30 with Sasha


Monday & Bank Holidays : LIBRARY CLOSED
Welcome to Keats Community Library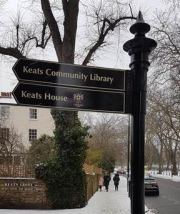 Coronaviris crisis:
Keats Community Library closed on 17th March. At the moment, it appears that early July might see us being allowed to re-open. We work with the super team at Keats House and other authorities to ensure we manage the library as safely as possible.
We are aware that with self isolation, people need access to books to pass the time and we are delivering a few books on request. Email us with requests and we will see what can be done subject to resources. Please check in the on-line catalogue that the book is shown as "available".

When we can, KCL will be back to do our part in reviving community life.
In the meantime, if you have books to return, please can you help by dropping them (in a bag please) into the black metal box inside the main gate. We will try to empty this regularly and put the books into the system. In any event, we are not charging fines.

PS: Our income from operations has dried up now and we would welcome help from anyone in these extraordinary times. Just get in touch to find out more about offering your time in the future.

Background on the Library

Keats Community Library ("KCL") is a volunteer-run registered charity at 10 Keats Grove, London NW3. KCL has been operated by the community after taking over the former Heath Library from Camden Council in March 2012
We depend entirely on our community for volunteers and funding. We welcome volunteers to join the terrific team in the library - just ask in the library or email us.
If you want to help in any way, or have ideas to improve our services, please see our "Join Us" section.
Visiting the library is free and open to everyone. To borrow books, DVDs and talking/audio books you need to register as we are not part of Camden's Library network.
Over 20,000 items to borrow - adult & childen's books + large print + talking books. We add new books weekly. We pride ourselves in adding the latest popular books, often when published.

6 public PCs + Printing and copying in Black & White and

C

o

l

o

u

r

(A3/A4) - charges may apply
FREE WiFi across the library + quiet study tables open to all
Large DVD Library : FREE use (renewed again for 2020) for 7 days ( with many thanks to U3A in London for supporting this)

An active and varied events programme based on Literacy and the Arts generally. Advance details are mailed to card holders and are also shown on this website
Educational sessions for children on Art, Creative Writing, chess as well as Rythme Time and Story time readings
Opportunities for social service qualifications such as Duke of Edinburgh candidates.

Our events are often sold out in advance. To hear about them early, please join our free newsletter; just enter your email address into the box to the left of this page and click "GO" or send us an email with your details.
Data Protection Note: By applying to join the KCL Newsletter list, you agree that we may mail you about forthcoming events, supporting the library and other issues we consider might be relevant or interesting to a supporter of the library. You can cancel at any time and your details are not shared with anyone.
Library card holders are put on the KCL Newsletter list as set out in the library card application form, unless they decide to opt out.

General Conditions for Library use and applicable charges are posted in the Library at the Librarians's desk. A copy is available CLICK HERE

Activities
---
Saturday CHESS Classes suspended
Bring your children to the Library for a chess class with our professional teacher, Bryan.

Every Saturday 2.30-3.30 pm
Classes cost £5 per child. Chess Sets provided.
Booking not needed - just turn up!

---
Do you need someone to talk to about your computer?
---