Opening Hours
Hours from 13th April 2021.

MAIN LIBRARY:
Tuesday 10 to 6pm

Thursday/Friday Closed
Saturday: 12 to 4pm

DEDICATED CHILDREN'S AREA:
Tuesday 10 to 5 pm

Saturday: 12 to 4pm

Children can borrow books and DVDs during Main Library Hours.
RHYME TIME Restarts on 8th June - in the Garden. Booking needed -see http://www.keatscommunitylibrary.org.uk/Rhyme-Time-in-June2021.shtml
Monday & Bank Holidays : LIBRARY CLOSED
Welcome to Keats Community Library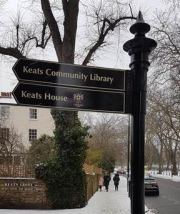 We are open ! At present this is a limited service on Tuesday (10 - 6pm) and Saturday (12- 4pm) for your safety.
All Books and DVDs are available; the latest books are on display near the entrance to allow a quicker visit. You will find many 2021 publications

Numbers in the building are limited; please register.
Masks much be worn. If you cannot tolerate a mask, please do not enter but ask us to serve you outside.

Computers are available with 2 metre distancing.

Study tables remain unavailable.

Returns can be left in black metal box on our black gates.
UPDATE 14th June 2021 - we are keeping to the above and will review in the light of further government advice.

Book Sale is on the 10th July - We would love your donations but please please only decent quality books ... thank you

Click HERE to read the guidelines on the books we take.

As with so many buisiness, our income fell of the cliff after March 2020. If you can spare help, please do not forget us.
We are looking for new volunteers. Just get in touch to find out more about offering your time in the future.

General Conditions for Library use and applicable charges are posted in the Library at the Librarians's desk. A copy is available CLICK HERE

Activities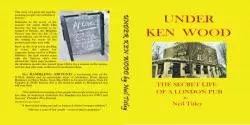 A delightful, funny new book about Hampstead by Neil Titley describes detailed street by street rambles, lots of history and features the story of the beloved Magdala Pub which reopens in April.
If you like Hampstead, you will love this book!
Available for purchase in limited numbers through the library. Neil is donating all profits to the Library.
For more infomation and how to buy please see the dedicated page or click here
---
Saturday CHESS Classes suspended
Bring your children to the Library for a chess class with our professional teacher, Bryan.

Every Saturday 2.30-3.30 pm
Classes cost £5 per child. Chess Sets provided.
Booking not needed - just turn up!

---
Do you need someone to talk to about your computer?
---